In Fond Memory: Francis M Marciniak
---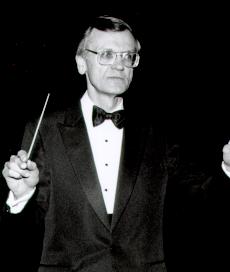 On May 16,1996, the wind band movement in New England lost one of its strongest advocates when Dr. Francis M. Marciniak, director of the American Band, and Professor of Music at Rhode Island College, suddenly passed away. He is greatly missed by the members of the American Band who knew and worked with him for so many years.
Dr. Francis Marciniak, lifelong music educator and band director, was a native of Pennsylvania and lived with his family in Cumberland, Rhode Island. He earned his Ph. D. degree in music education at Northwestern University in 1972 and had conducted school and collegiate bands in New York and Pennsylvania before coming to Rhode Island. He was Professor of Music and Director of Bands at Rhode Island College.
In 1978, Dr Marciniak became conductor and director of the American Band. He was a nationally recognized authority on early American bands and their music, especially the American Band and its early leaders. In 1986, Dr. Marciniak was awarded the National Band Association "Citation of Excellence" for his outstanding contributions to band and band music.
Fran Marciniak cared greatly for and meant much to the world of band music, and his career was an example of the influence that just one person can have. In addition to his single handed revival of the American Band in 1978, he did extensive research and writings on the Band's history and that of other early American bands and their music. In addition, he was active both regionally and nationally in the promotion of bands and band music at all levels.
He was one of the founding members and past president of the New England College Band Association, and an officer of the College Band Directors' National Association, serving as Rhode Island state chairman for many years. At Rhode Island College, he sponsored numerous conferences for college and high school band directors. Colleagues referred to him as a "rock" of the college band director circuit.
Fran Marciniak's influence on music education was wide, and he shared his knowledge and experiences with others, giving freely of his time, sponsoring clinics and seminars in schools for both band directors and students. He tirelessly promoted "proper, comprehensive band education" as a legitimate and important field of study rather than merely an extracurricular activity.
At over 200 American Band concerts under his direction, Dr. Marciniak strove to involve people, especially young ones, in the events. A regular series of Young People's Concerts featured student musicians in performance with the Band. Members of the band introduced, explained, and demonstrated every instrument played and how they worked. Halloween concerts had both the Band and the audience in costume.
At a special concert this year featuring music for the trombone, Fran, a trombonist himself, formed a 25 member trombone choir of local musicians of all ages to perform. Fran made sure that just about every trombone student in the area got a free ticket to the event. All musicians, young and old, and the instruments they played shared equal billing with the Band.
Fran also recognized the contributions of those who often go unrecognized. A special concert entitled "Music She Wrote", featuring the music of women composers, was just one example of his diverse concert programming.
A professional and personal highlight in the Band's history under Fran's leadership came in the summer of 1994, when the Band was invited to perform on a special Fourth of July live broadcast of Garrison Keillor's popular Prairie Home Companion on National Public Radio.
The American Band is Dr. Francis Marciniak's living monument, and will continue its 159 year tradition, history, and music in his memory.
---