The American Band Today
---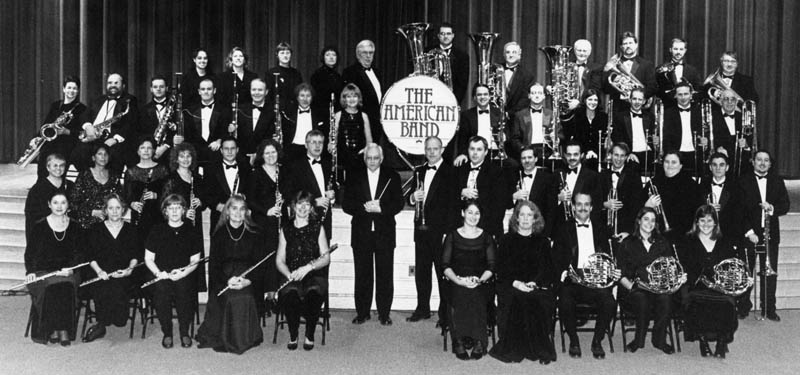 ---
The American Band today is made up of over 50 adult musicians, many of whom hold degrees in music, and many of whom are professionals in non-musical careers. The members volunteer their time and services, rehearsing once a week for eleven months of the year. A typical season for the Band will feature some twelve to fourteen concerts. The American Band has performed concerts indoors and outdoors in virtually every community in its home state of Rhode Island and many other cities and towns in nearby Massachusetts and Connecticut.
The Band is a versatile organization. It is a concert band, brass band, brass ensemble, tuba-euphonium quartet, and a woodwind quintet. Its repertoire is all-encompassing, ranging from the classical to the whimsical, from rousing marches and fiery overtures to gently descriptive pieces and hymns, from the operas of Rossini to the show tunes of Broadway. But what the American Band does best is dramatically recreate the music of the golden age of the great concert bands of America, exactly as it would have been played by the famous bands of Patrick S. Gilmore, D.W. Reeves and John Philip Sousa.
The American Band has become well-known for its special theme concerts. These have included "A Tribute to John Philip Sousa", "A Tribute to Firefighters", period-related historical concerts, pops concerts and a continuing series of Young Peoples' Concerts featuring special soloists and events.
The Band rehearses on Thursday evenings throughout the year, except for the period extending from its last concert of the summer until Labor Day. Rehearsals are held at 7:30 PM in room 128 of Roberts Hall, Rhode Island College, Providence, RI. Experienced adult musicians who are interested in joining the band should contact the conductor, Dr. Gene Pollart, or The American Band. The Band welcomes new members as openings in its instrumentation become available.
---
The American Band at Bristol, RI Town Commons, July 1996
---
[ The Band | Our Conductor | Our Members ]
---