Meet some of the Members
of
The American Band
---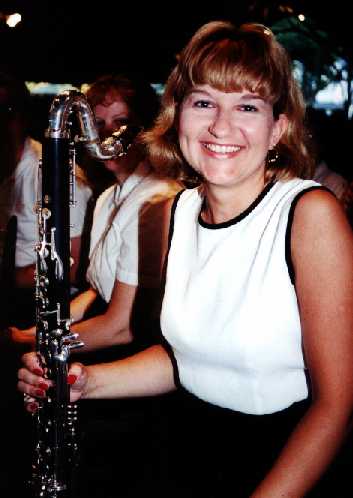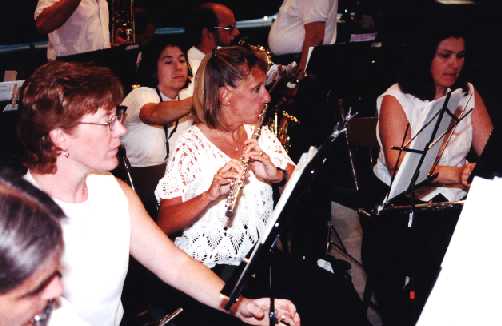 Some members of our Flute Section
---
Barbara Audette - Bass Clarinet
Noveline Beltram - Flute/Piccolo
---
Barbara Audette - Bass Clarinet
Barbara Audette, bass clarinet, has been with the American Band since 1982 and is a past-president of the band. Barbara is a 6th grade middle school teacher in the town of North Providence. She holds a Batchelor's degree in Communications and a Master's degree in Elementary and Special Education. She has directed several musicals with her students over the past several years, and also instructs woodwind students at her school. She teaches clarinet and bass clarinet privately. Barbara has two sons - the eldest is a trumpet player, and the youngest, a pianist!
---
Noveline Beltram - Flute/Piccolo
Noveline Beltram, both a musician and educator, graduated from Rhode Island College in 1978. Obtaining a job in the Thompson Public school system that same year, she taught general, choral and instrumental music at both the middle and high school levels over the course of 24 years. After obtaining a masters in business administration from Bryant University and a second masters in school administration from Sacred Heart University, she moved into the position of assistant principal of the middle school and this fall as the assistant principal in the elementary school. 2008 will mark Noveline's 30th year performing with the American Band.
---
Christine Eldridge is the Community Ensembles Director for the Rhode Island Philharmonic Orchestra and Music School, where she oversees the youth orchestras, wind ensembles, choral ensembles, jazz ensembles, chamber music and the adult community orchestra. She has taught clarinet in Rhode Island, Massachusetts, Virginia and Illinois. Her performing experience includes the Rhode Island Philharmonic Community Orchestra, the American Band (Providence, RI), the Symphony of Oak Park and River Forest (Illinois), the Wheaton Symphony (Illinois), the Fox Valley Symphony (Illinois), and Busch Gardens Festhaus Band (Williamsburg, Virginia). Christine is a member of the RI Music Educators Association and the Music Educators National Conference. She holds a Bachelor of Science in Music Education from Rhode Island College.
---
Joyce Harrington - Saxophone
Joyce Harrington received a BA in Saxophone performance from Edinboro University of Pennsylvania, and her MM from the New England Conservatory. She has been with the Anerican Band for fourteen years. Currently Joyce is the High School Band Director in Abington Massachusetts and is Conductor of the bington Community Band. In addition to saxophone, she also plays flute and clarinet and is active as a musician in the Rhode Island and Southeastern Massachusetts area. Joyce can be reached at gullet@ici.net.
---
Lucinda Ladd graduated from Skidmore College with a B. S. in Music Education. She has studied with Robert Stallman, Nina Barwell, Chris Krueger, and Donna Heiken of the Boston Philharmonic. Lucinda has taught privately in Wakefield, Jamestown, and East Greenwich for the past 19 years, and has been on the faculty of the Music School for the past 5 years. She has been a member of the American Band for 18 years and is a member of the Henschel Club. Lucinda performs regularly throughout the state. Her other interests include raising her three children, pottery, her Girl Scout Troup, bicycling, and tennis.
---
Ron Pouliot has been a member of the American Band trumpet section since the band's reorganization in 1978. Ron served as President of the American Band in 2000-2001 and is presently the President for the 2003-2004 concert season. He has taught music in the Warwick RI and Bellingham MA school systems. He is currently an instrumental/general music teacher in the North Providence RI school system. Ron also conducts the Blackstone-Millville MA Regional High School Brass Choir and is the trumpet instructor for the Blackstone-Millville Music Department. Ron may be reached by e-mail at: pouliot@msn.com
---
Charlene is a certified teacher and provides private clarinet instruction for beginning through advanced players. She also plays in a clarinet trio/quartet that is available for special occasions or background music.
---
Stephen Valk - Clarinet
Stephen Valk has been a member of the American Band since September 1996. He has studied clarinet extensively with Alex Williams (NBC Symphony), as well as with Herb Blayman (Metropolitan Opera Orchestra) and Steve Freeman (NY Philharmonic). Steve has been a member of a variety of musical ensembles including the North Jersey Philharmonic, Kent Philharmonia, Kent Woodwind Quintet, Grand Rapids (Michigan) Concert Band, and the Rhode Island Wind Ensemble. He is currently a member of the Chalumeau Clarinet Quartet, the Chopin Music Club, and the Amateur Chamber Music Players Association. Steve holds a BSEE from Rutgers University and a MSEE from the University of Rhode Island. He is employed as a Senior Systems Development Engineer at Raytheon Company.
---
Gary W. Vallee is an instrumental music teacher in the Waterford Connecticut Public Schools where he teaches 4th and 5th grade students in in three schools. He is also in demand as an music adjudicator for festivals in Connecticut , Massachusetts , and Rhode Island. Gary has been a member of the American Band for 19 years, of which 17 he has served as principal trombone. He is currently in his fourth year as state chairman for the Connecticut chapter of the American School Band Directors Association. In addition to trombone, Gary also plays baritone horn, trumpet, and french horn.
---
Susan Woythaler graduated from Berea College in Kentucky with a B.A. in Music Education.. She earned a Masterís degree in Education from RI College and a Masterís degree in the Creative Arts from Fitchburg State College. She also has a special certificate in "music and movement for children" from the Orff Institute in Salzburg, Austria. Susan is a member of the American Band and also performs with The Island Players. She currently teaches elementary music and is Supervisor of Fine Arts for the Portsmouth School Department. She may be reached via e-mail at: susanlark@cox.net

---
Saul Woythaler, bassoonist, graduated from the University of Rhode Island with a degree in Electrical Engineering and earned a Master's degree in Electrical Engineering and Computer Science from Northeastern University. Saul is a past member of the Rhode Island Philharmonic and is now principal bassoonist for the Rhode Island College Orchestra and is a member of both The American Band and The Island Players. Saul is currently a senior design engineer at Raytheon Corporation. He may be reached via e-mail at: ssw2@cox.net

---
[ The Band Today | Our Conductor | The Band ]
---
last updated September 29, 2007