Dr. Gene J. Pollart
---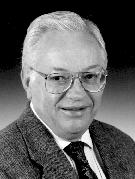 The former Conductor of the American Band, Dr. Pollart is presently Conductor of the the Symphonic Wind Ensemble at the University of Rhode Island. He received his Bachelors and Masters Degrees in Music Education from the University of Colorado, and holds a Ph.D. in Education from Columbia Pacific University. In addition, he has done post-graduate work at the University of Iowa.
Prior to his current position at URI, Dr. Pollart held positions at California State University, the University of Wisconson, and South Dakota State University. He also taught in the public schools of Colorado and Washington.
Dr. Pollart is an accomplished percussionist, having performed professionally as timpanist with the Fresno Philharmonic Orchestra, the Artists Internationale Opera Company, and the Providence Opera Theater. He also performed as a jazz drummer with renowned pianists Don Grusin and Nilo Menendez.
Dr. Pollart maintains an active schedule as guest conductor, clinician, and adjudicator. He is also currently the President of the Rhode Island Music Educators Association. Dr. Pollart may be contacted at the following address:
Dr. Gene J. Pollart
Department of Music
The University of Rhode Island
Kingston, RI 02881
(401) 792-2431
---
[ The Band Today | Our members | The Band ]
---